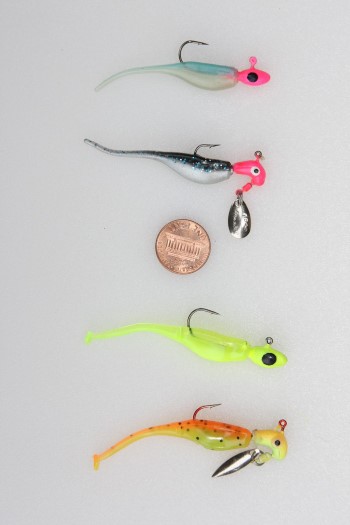 By Darl Black
The Bobby Garland Baby Shad (and its big brother the Baby Shad Swim'R) are among my favorite soft plastic jig bodies for crappies. I've been using the Garland Baby Shad for approximately five years. I have been amazed how well a 2-inch piece of soft plastic with no built-in action (other than slight tail quiver) can catch so many crappies.
The Baby Shad on a 1/16-ounce Road Runner Head catches crappies one after another when the fish are feeding. Cast out, count down to the desired depth and retrieve very slowly, with an occasional 1 or 2 second pause.
And the Baby Shad becomes my go-bait when crappies get lockjaw. Under tough conditions, the tiny shad profile works best on a 1/24 or 1/16-ounce Mo'Glo Head, often fished below a float while employing a slight rod twitch. Crappies simple slurp it in.
The newer Baby Shad Swim'R has a bit more action due to a swim tab on the tip of tail, as well as scent pocket. I prefer to fish the 2.25 inch Swim'R on a Road Runner Head when the water is off-color or when fishing deep – two situations where a large profile is a better idea.
I generally prefer one of the more natural shad or minnow patterns for both baits, except when the water is stained; then I'm likely to switch to something brighter and bolder.
Be sure to have plenty of Bobby Garland Baby Shads in you tackle bag. Check them out at www.bobbygarlandcrappie.com.