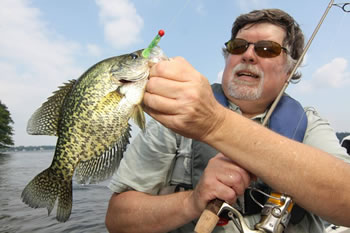 Fishing with Darl Black Guide Service
Licensed by the Pennsylvania Fish & Boat Commission on inland waters of the Commonwealth
Outdoor writer and photographer Darl Black has shared fishing information in America's favorite angling magazines for over 30 years. Today he is sharing his knowledge person-to-person through guided fishing tours. "I've been fishing since I was old enough to hold a fishing rod. Although writing assignments often take me to different states, I'm always eager to return home to my favorite NW PA waters. Without a doubt, smallmouth bass are my favorite quarry. But crappies are a very close second. Come along for an informative and instructive outing on the best inland waters of NW Pennsylvania, including Pymatuning Lake, Conneaut Lake, French Creek and Allegheny River."
FAVORITE WATERS
Pymatuning Lake is recognized as one of America's top fisheries, ranked 22nd in the Top 100 Best Crappie Lakes in the US by FishHound.com (the only lake in PA on the list) and named as one of the Top Ten Best Family Fishing Vacation Destinations by Game & Fish Magazine. See what some of America's top crappie fishermen have to say about Pymatuning.
Conneaut Lake is Pennsylvania's largest natural lake supporting incredible panfish and bass populations.
French Creek & Allegheny River provide the best riverine smallmouth bass fishing opportunities in the tri-state area. Requests from guests for trips to other area lakes will be considered also.
ALL EQUIPMENT PROVIDED
Boats – On 20-HP-limit Pymatuning Lake, a tiller-steered PolarKraft Classic aluminum V-hull capable of carrying three people is the fishing platform. A Roughneck river boat with 40-horse jet outboard is employed on the shallow free-flow section of the Allegheny River. Either boat may be called into use on Conneaut Lake. Late summer outings on French Creek are by wading.
Tackle & Equipment – All necessary tackle and PFDs are provided. Rods, reels and lures for the specific techniques employed will be supplied, including G. Loomis Rods for bass fishing and B'n'M rods for crappie techniques. Shimano Reels and Lew's Reels are spooled with Gamma Line. The latest Garmin Electronics are mounted on the boats, plus Driftmaster Rod Holders for crappie-fishing techniques.
What to bring – A Pennsylvania Fishing license is required of any guest over 16 years of age. Guests should wear seasonally appropriate clothing. Light snacks and cold non-alcoholic beverages will be onboard. Digital images of your catch and day afloat will be provided to you.
FISHING CALENDAR
APRIL – Catch & Release Fishing for Smallmouth Bass on the Allegheny River or Conneaut Lake
MAY – Crappie fishing at Pymatuning Lake
JUNE – Crappie and Bluegill fishing at Pymatuning or Conneaut Lake
JULY & AUGUST – Panfish Potpourri on lakes; Smallmouth Bass on the Allegheny River
SEPTEMBER – Wade fishing for Smallmouth Bass on French Creek
OCTOBER & NOVEMBER – Smallmouth Bass on Conneaut Lake or Allegheny River; panfish on Conneaut Lake
NOVEMBER – Walleye, Perch, Crappie & Bluegill at Pymatuning – weather permitting
Smallmouth Bass Catch & Release trips on the Allegheny are conducted from April 1 to mid-November, except during May & June when the focus is on crappies at Pymatuning
GUIDE RATES
Day-long trips during the heat of summer quickly become endurance tests. Therefore, Darl's guided trips are planned as half day events, either during the morning or late afternoon hours when fish are likely most active. Bass trips in the early spring or fall will be adjusted to mid-day due to shorter daylight hours.
Crappie & Panfish 5 hours $200 (one or two people)
Smallmouth Bass 5 to 6 hours $200 (one person only)
Reservation deposit of $75 is required to hold a date. A signed waiver is required of each guest; waiver form provided upon inquiry of guide trip.
Fishing Instruction Classes – Receive instruction in proper use of spinning and casting outfits plus demonstration on how to effectively work a variety of different lures. Two hour classes are conducted from the shore. Contact Darl for further details.
Gift Certificates – A gift of a guide trip is an excellent birthday, anniversary, graduation or retirement present for someone who likes to fish. Ask about details regarding a gift certificate.
ADDITIONAL NOTES
– Bass fishing trips are strictly Catch & Release using lures with barbless hooks. Digital photos will be taken of your catches and provided to you on a CD.
– Crappie/Bluegill/Panfish trips: PA regulations permit harvest of up to 50 panfish per person.
– Because having youngsters involved in fishing is so important for the future of the sport, Darl will cater guide trips specifically for a parent with son or daughter under 16-years of age.
– French Creek wade fishing trips are specifically geared for a parent and young person. You will be instructed how to collect indigenous summer creek bait and then use the creek bait to catch smallmouth bass with circle hooks.
– Alcoholic beverages are not permitted on any guide trips.
Contact information for Fishing with Darl Black Guide Service:
– email us
– Cell: 814-720-1407
– Home Office: 814-425-8011
Be sure to follow "Fishing with Darl Black" on Facebook for guide catch updates, special deals on guide trips, and angling tips from tackle sponsors.
Follow Darl's blog "Going Fishin'" at www.blogspot.com for his most current fishing adventures.