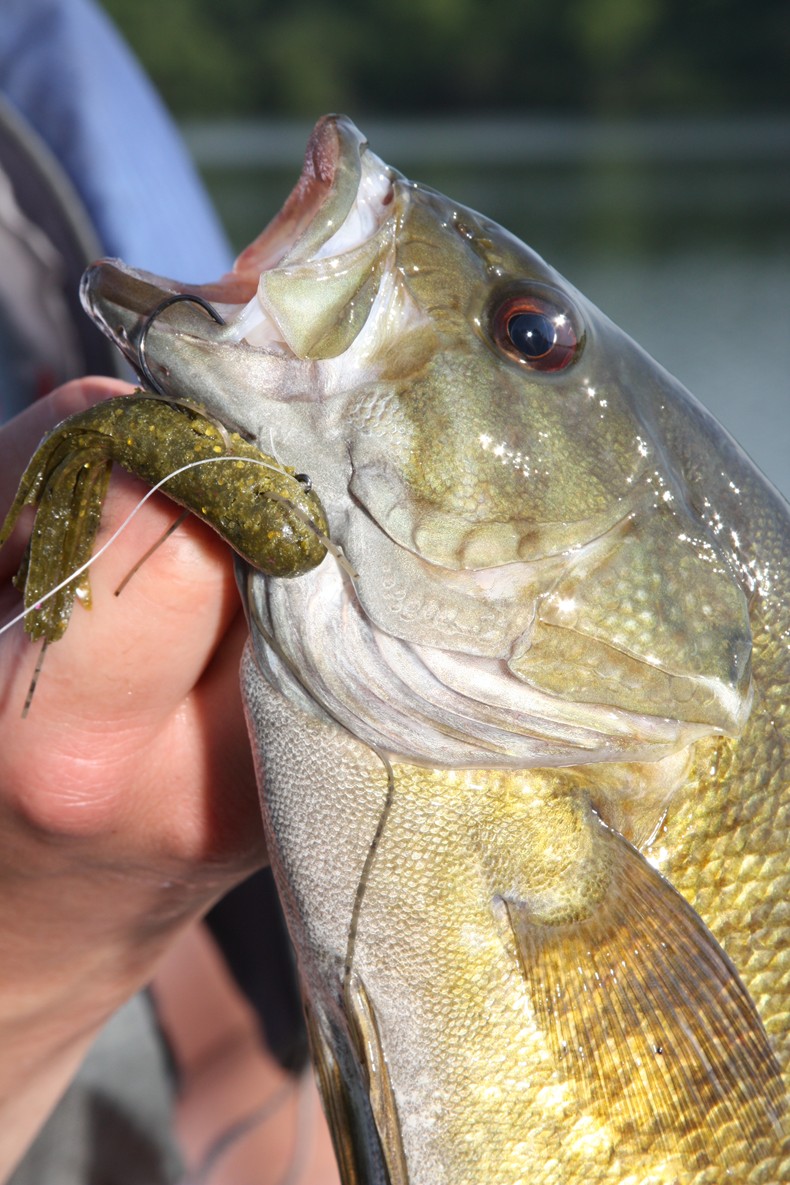 Good Bets for Prespawn River Smallies
Trying to narrow down the wide array of useful lures for springtime river smallmouths is a difficult task. Therefore, I'm going to suggest seven baits for anglers to consider.
Of course these are not the only baits which produce, so please don't consider this a "final" list by any means. You may have others that are equally effective. But if pondering what to use, here's my picks:
Tubes – Simply put, tubes are effective for river smallmouths at all times. Whenever I hit the river, I always have a tube jig on one rod. For river fishing in the spring, I prefer a tube that is 3.5" to 4" in length.
Galida's Grubz – I've had great success with curly-tail grubs for smallmouth in the spring. Galida's Grubz are especially popular with my fishing mates on the Allegheny River. While I generally fish a grub slow and steady, my wife and several other friends employ a lift and drop jig retrieve with Galida's Grubz. One buddy, Bill Logan, fishes the Grubz more than any other bait on the river, and catches fish when everyone else struggles. You will not find them in stores, so Google them online if interested.
Sweet Swimmer – Swimbaits are being used by more and more anglers in the spring for river smallmouths. If you've never used a soft plastic swimbait for smallies, it really is time that you tried one out. One of my favorites is the Gene Larew Sweet Swimmer.
Suspending Rogue – When the river is clear, it's time to break out a hard jerkbait. There are many excellent ones on the market. More often than not, I tie on a Rogue in a particular color pattern that has been especially effective for me for river smallies – that would be #69 Golden Rogue.
Bandit Crankbait – However, if the river is dingy, I leave the jerkbait off and tie on a Bandit Crankbait 200 series in Rootbeer. It's a great search lure when the dirty water is swirling around the shoreline.
Chatterbait – I used to fish a spinnerbait in the spring for river smallmouth under dirty water conditions. Today, I generally tie on a Chatterbait. I believe a Chatterbait has a lot more vibration. And the shimmy action of the Chatterbait seems to turn smallmouth on.
Terminator S-1 Spinnerbait – Okay, I didn't say I never use a spinnerbait anymore. To round out the lucky seven springtime river baits my vote goes to ¼-ounce Terminator Super Stainless double willow in White Shad pattern (or other shad pattern). It's the perfect all-around small-profile spinnerbait for spring bronzebacks.
The above selection of baits will cover the various situations which confront the angler as smallies from wintering locations to spawn time.