By Darl Black
It's the latter part of February, and thick ice covers all the lakes in northwestern Pennsylvania. Although shallower and faster flowing sections of middle Allegheny River and regional creeks are open, edge ice on the banks is everywhere and slower stretches remain completely encased in winter's deep freeze. But Marilyn and I are counting the days to the Spring Equinox. In our corner of the state, ice cover on lakes usually weakens by the Equinox (March 20th) – some years a little later.
However, flowing water will open up before impounded water – perhaps as much as two weeks ahead of lakes depending on weather. So my first smallmouth of the new open-water season typically comes from the Allegheny River. I will be on the river as soon as ice cover on slow-moving pools breaks up and the floating ice sheets melt.
I'll point my jet boat in the direction of a bass wintering area. Wintering holes are best described as sites with minimal water flow, such as long pools, large bank eddies, deep holes on wide bends, deep eddies downstream of bridge piers or islands, and the list goes on. Water depth is relative to the particular stretch of river. As long as the flow is slow, wintertime smallmouth may be as shallow as 6 or 8 feet to as deep as 15 to 18 feet on the middle section of the Allegheny.
At ice-out, smallmouths are hugging the bottom amid some type of cover which helps deflect the already slow flow. These bass are feeding on crayfish and other benthic critters. Bottom "cover" can be small ledges, rock piles, boulders, sunken branches/logs or just about any type of waterlogged submerged debris. If you are not getting your lure hung regularly, chances are you are fishing a bottom that is too clean.
Mention of bottom dwelling critters certainly sets the stage for the most productive presentation at ice-out on a river: jigs. But not just any jig – you've got to be specific. Among the smallmouth anglers I fish with during ice-out, the most successful jigs include: hair jigs; tube jigs; soft plastic creature jigs; skirted jigs with crayfish trailer; and swim-tail grubs. One of my favorite baits is a "Crawling Tube" from Get Bit Baits. Read more about the Crawling Tube at Smallmouth Tested on this Smallmouth Quest page.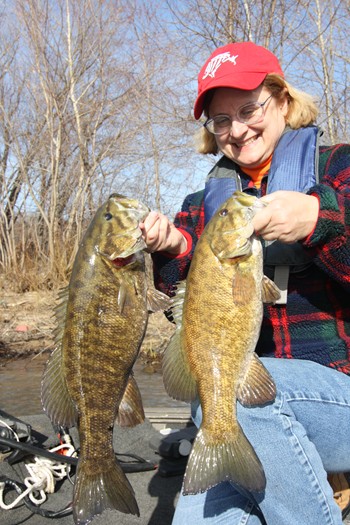 Jig weight will depend on depth and current flow; the most used weights on the Allegheny are 1/8, 3/16 and 1/4-ounce – perhaps a 5/16-ounce if the water is really high. I keep the total length of my jig-with-body to less than four inches.
Fish all styles of jigs very slowly. Employ a gentle lift-and-drop presentation as you move it along the bottom – testing each lift to see if there is resistance. Or try dragging the jig smack on the bottom, pausing frequently. Very slow steady swimming of the bait just of the bottom can work, too.
If the river is running clear and low, a suspending jerkbait might produce.
Make the correct presentation in the right spot and you may catch some of the biggest river bass of the season. The smallies we catch shortly after ice out range from 15 inches to 19 inches; rarely do we catch bass under 13 inches at this time. All fish are released immediately to the site caught.
Go fish!